6-in-1 Solar Robot Kit CIC 21-610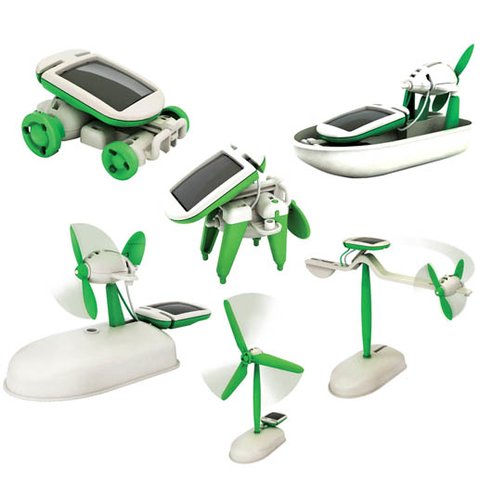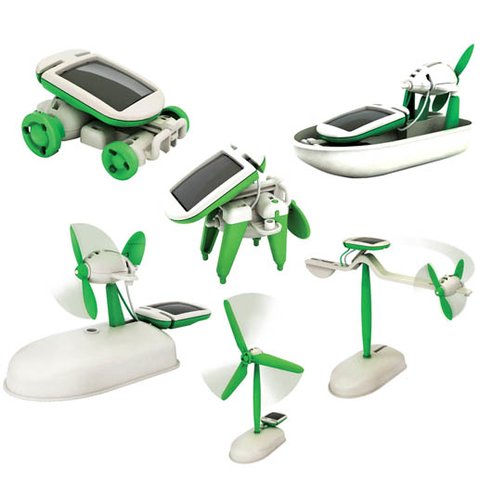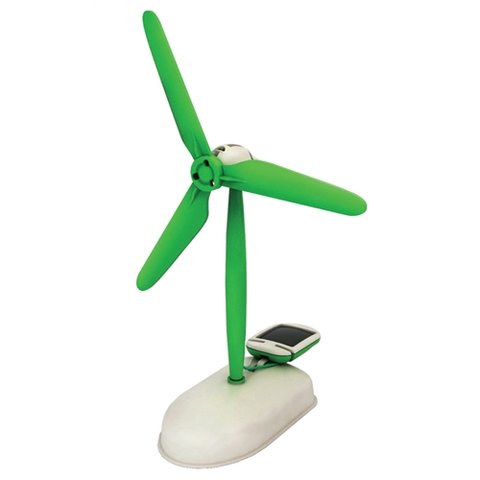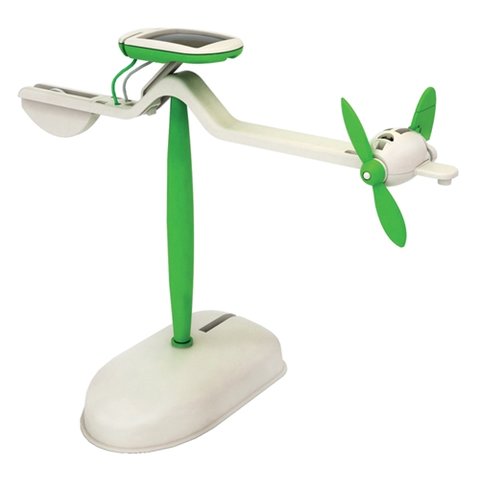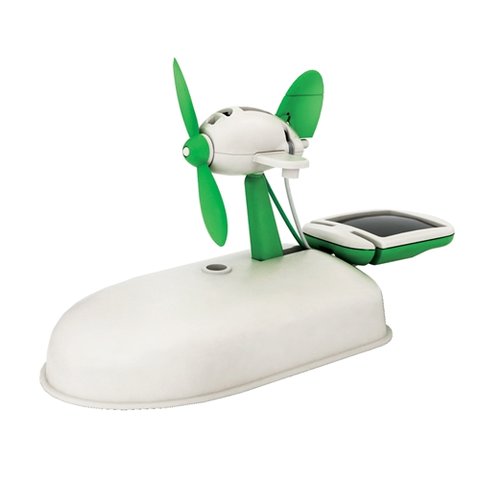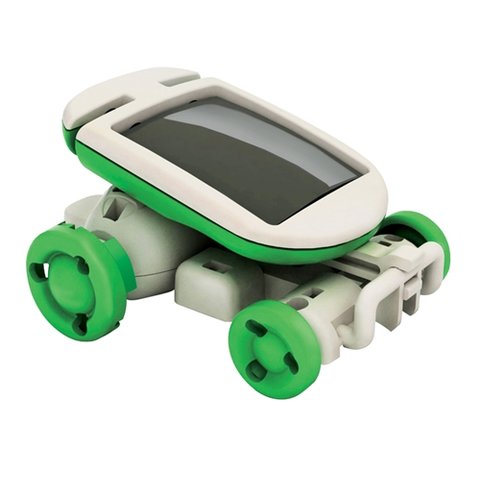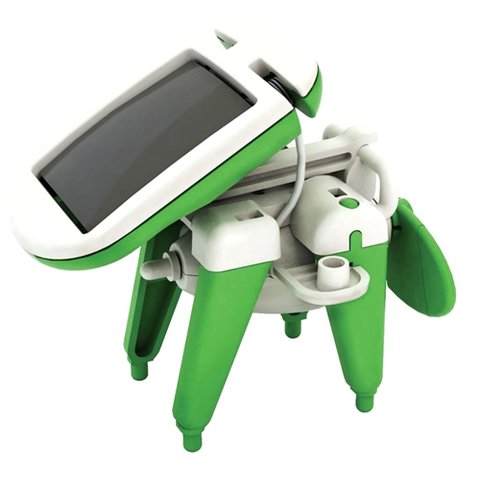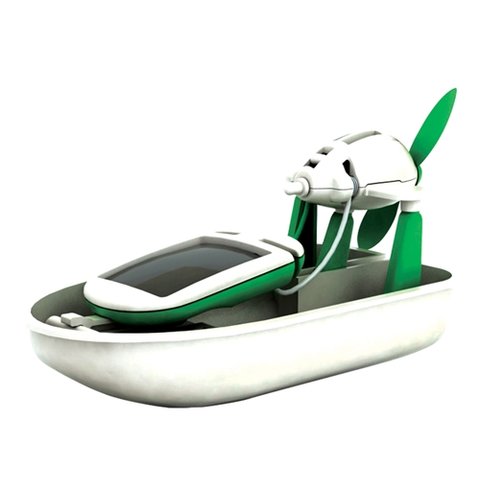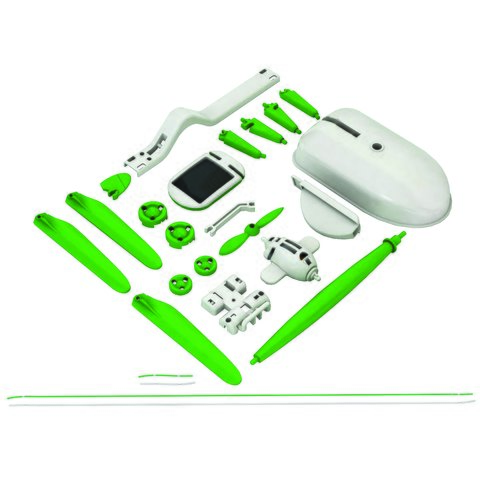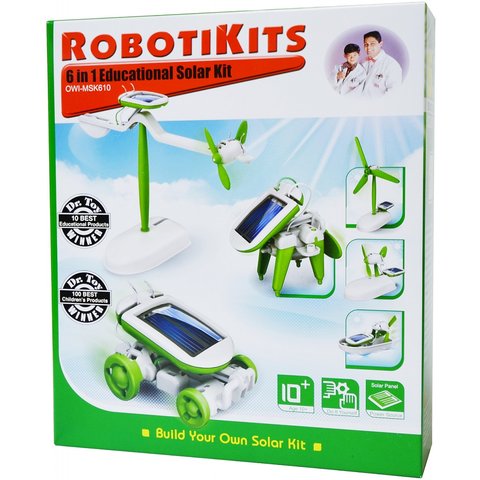 Self-assembly kit to build 6 robots powered by solar panels: windmill, revolving plane, plane, car, puppy and airboat. Made in Taiwan.
Robot kit CIC 21-610 is a DIY kit to build 6 robots powered by engines on solar panels.
How to Use
The kit consists of 21 elements. All the robot are easy to assemble and don't require soldering. You may need a screwdriver, scissors or pliers to do that. You can build 6 different robots:
Windmill;
Revolving plane;
Plane;
Car;
Puppy;
Airboat.
These robots are powered by solar energy, so we recommend you to wait for a bright sunny day to play with them. However, when it's cloudy weather, a halogen bulb with a capacity of at least 50 watts can help you a lot.
You will transform one model into another and watch them moving. Be ready to have fun and learn about alternative power sources, robotics and mechanics!
Who May Like It
Everybody who is at least 8 years old. Do you like robotics? If so, this kit is perfect for you!
Your gender and special skills don't matter. This kit is perfect for both beginners and experienced robot builders.
Manufacturer
CIC is a Taiwanese manufacturer that makes fascinating robots, solar energy kits, as well as motorized and remote controlled models. CIC toys allow learning robotics, alternative sources of energy and have fun while gaining new knowledge!
We have only original and high-quality CIC kits on toys4brain. Get to know how to identify the fake from the original here.
Specifications
Power of solar panels
75 mA
Service life of solar panel
3-5 years
Engine
12 000 rpm, DC 1.2 V
Power consumption
Airboat: 30 mA
Windmill: 100 mA
Puppy: 50 mA
Car: 60 mA
Plane: 20 mA
Revolving plane: 20 mA
Assembled model size
Airboat: 121 × 61 × 86 mm
Windmill: 154 × 153 × 239 mm
Puppy: 68 × 46 × 64 mm
Car: 70 × 54 × 34 mm
Plane: 154 × 61 × 94 mm
Revolving plane: 218 × 61 × 166 mm
Weight
Airboat: 36.56 g
Windmill: 43.32 g
Puppy: 19.4 g
Car: 18.76 g
Plane: 32.66 g
Revolving plane: 44.72 g
Total package weight
202.66 g
Package Contents
6-in-1 Solar Robot Kit CIC 21-610
Note: Solar panel shows the highest efficiency under the bright sunlight. On a cloudy weather its efficiency is much lower. Halogen lamp with capacity of 50 W can be used as an alternative light energy source in premises.
Additional Information
Warning: this DIY construction set contains small parts.
The original certified product. Made in Taiwan.
Attention! Beware of low quality counterfeits made in China.
Don't miss out on the best robot toys for kids! Explore our TOP 10 here.
Into robotics: get to know the positive impact of robots on kids. Follow the link