The TOP 10 Best Robot Toys for Kids
Robots for children have come a long way to become as cool and diverse as they're today. Back in the days we could only dream about robots that modern kids adore so much today. If you were watching those sci-fi movies from the 1990s, you probably imagined yourself being in that world of cyborgs, robots and artificial intelligence.

Luckily, for kids of our time, they have all the chances to emerge into that world without leaving the room. One could even say that they have almost numberless choices when it comes to toys that both entertain and educate. We've found some of the best robots for kids of all ages and stages. And we've made the TOP 10 list of it, so you may give careful consideration to the matter and choose which robot toys fit your kids the most.
Page Content
The Most Popular Robots
Meccano MeccaNoid G15
Toys manufacturers are about to break new ground with all these cool new robot kits for kids. MeccaNoid G15 is the one that could be any kid's dream robot. We once put it on our list of the best toys of 2017, and we would do it again if needed.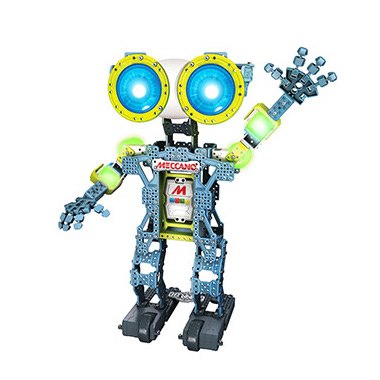 MeccaNoid G15 has more than 600 individual parts and is powered by six different motors. The building process is captivating and is easy to handle for an eight-year-old kid. He also uses voice recognition technology. With his big expressive eyes, movable legs and arms, this robot can dance and give you a high-five, react to your command and answer to his name.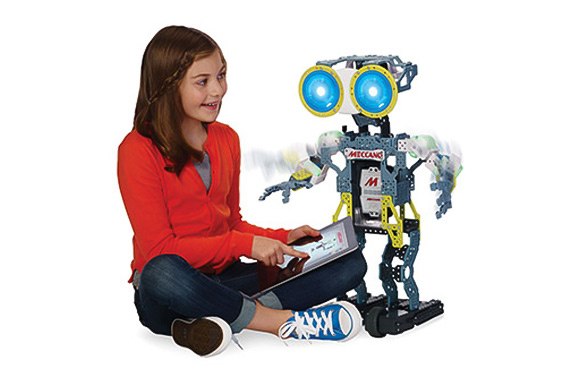 Everybody will be blown away by all the cool things he MeccaNoid G15 is able to do. You need a gadget with a free app installed on it to control the robot. Or you can just give it voice commands. MeccaNoid knows 12 languages, and you can change a language any time by connecting the robot to your computer.
Transformer LEGO Creator Robo Explorer
The TOP of the best robot toys wouldn't be complete without a time-honored LEGO transformer set.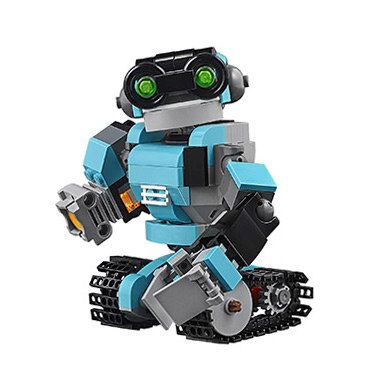 Robo Explorer is an inexpensive toy robot that allows children to assemble three different models by their own hands: a robot-explorer, a robot dog, and a robot bird. And even though robots can't move or talk in comparison with their more advanced friends, they have movable parts which give the limitless options for play.
As you can see, this kit has everything you're looking for in robots for kids. From a fair price to undeniable benefit in terms of fun and learning. Just like the one that we have! Look at Motorized Robot Kit 4 in 1 by CIC if you in the search for something like that. It contains 32 parts to build four robots, which are the rolling beast, the power trailer, the running cricket and the walking robot. It's easy to transform models into one another while enjoying unique motions of each of it.
Star Wars Droid Inventor Kit
We believe that this robot's popularity stems from the fact that Star Wars franchise is EPIC. Who wouldn't want to have his very own part of it?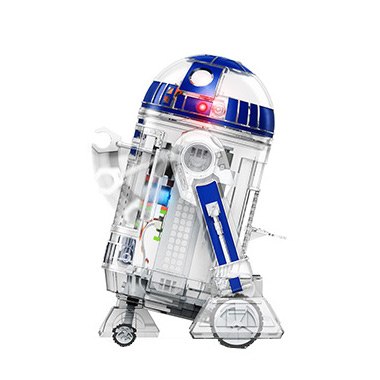 Thus, there is Star Wars Droid Inventor Kit made by amazing LittleBits, which is designed for kids aged eight and up. By assembling the droid, kids learn more about robotics and have the possibility to emerge into Star Wars world. Once the robot is built, they can send it on missions. It doesn't matter how old are you, you'll be amazed by all the cool things the Droid can do.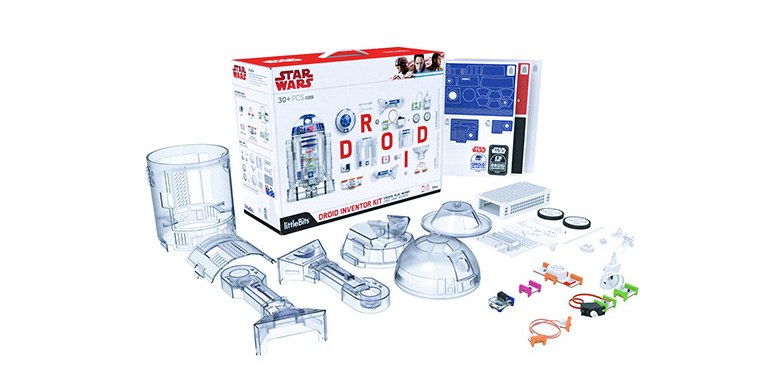 We have already mentioned him in our Top 11 Best STEM Toys of 2017, but he's worthy to be said more than once.
That's What Kids Call the "Cool Robot"
Anki Cozmo
Talking about the robots that the older generation could only dream of seeing them in the sci-fi movies, we can't help but mention Cozmo.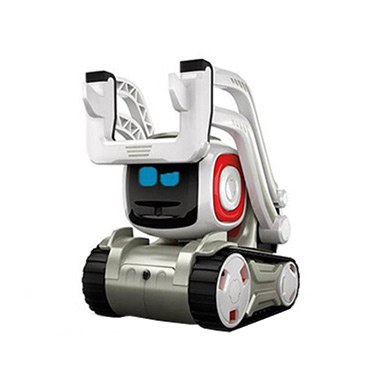 He is a little guy who you fell in love with the moment you'll see him. He won't give up on surprising you and all your friends and family. Cozmo has an impressively big personality! Every moment spent with him is a chance to learn and play for both kid and the toy. Once connected to the free Cozmo app, he'll recognize kid's face and say his name.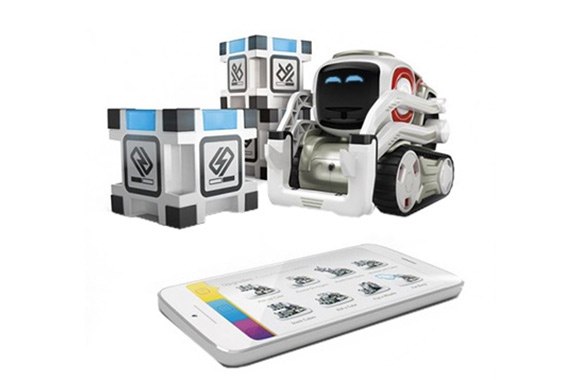 What's more, the robot never wait for people to play with him! Cozmo is always the one to initiate the fun. The more kids interact with him, the more choices for the game they have. For advanced players, there's an option for a simple coding to diversify the fun.
Meccano M. A. X. (Meccano Advanced Xfactor)
M. A. X. features artificial Intelligence with customizable programming.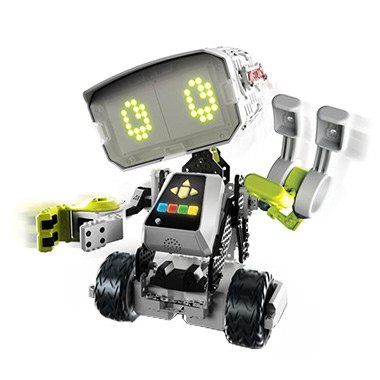 The assembling process may seem challenging, although the detailed instructions will help you to put all the details together. As a result, you get a learning toy who you can bring and play with everywhere! M.A.X. is controlled via the free app on your gadget or by pressing the buttons on his MeccaBrain.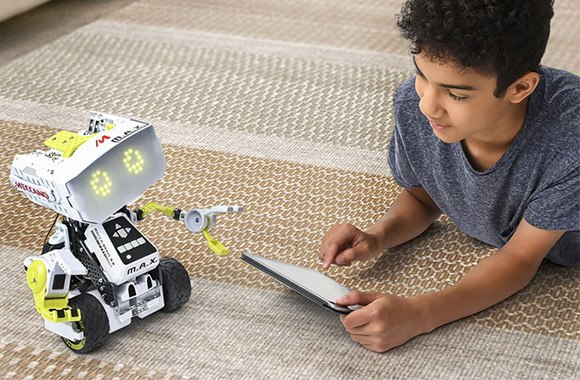 Meccano robot has infrared sensors, which provide flexibility and agility. As we have been able to figure out, kids particularly love its message-recording function. In case your message isn't clear enough, he even tilts his head to show you that! And, in fine, M.A.X. is the best toy for budding engineers, builders, and programmers.
Clementoni Evolution Robot
Evolution Robot is all about self-education. It has moving arms, body and crawler tracks, powered by four electric motors.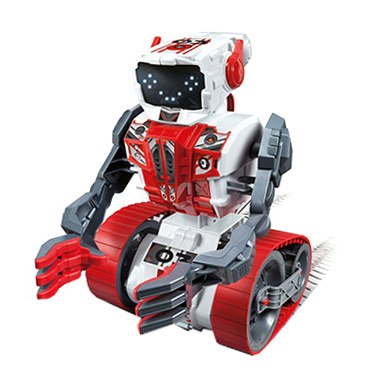 By downloading a free app compatible with tablet and smartphone, you get a powerful instrument to control the robot. Just run the app and choose one out of five different play modes: Programming, Real time, Self-learning, Dancing and Memo!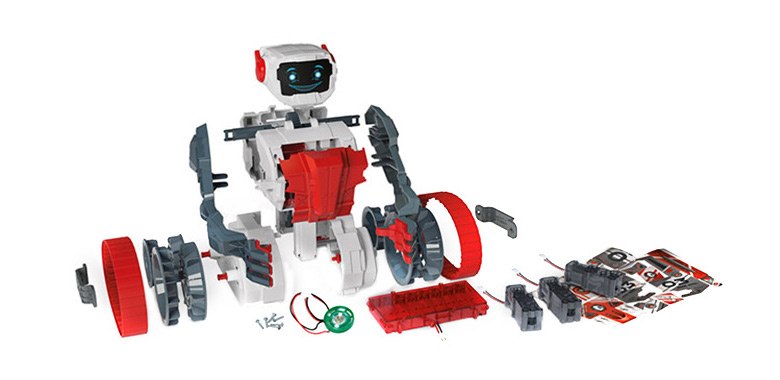 Clementoni Evolution Robot features sounds, music, voice messages and five facial expressions, which provide hours of engaging fun and learn. The toys comes with the scientific manual that contains many useful and interesting facts about robotics.
Thinkgizmos Remote Control Robot
Prepare yourself to hear the most outstanding toy robot greeting you've ever had. "Greetings Master I await your command." Sounds notable, isn't it?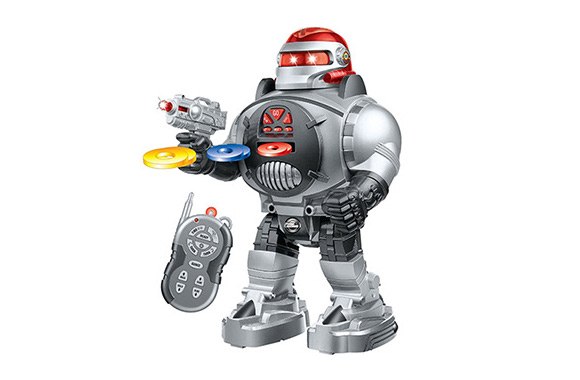 However, there is much more than that! Thinkgizmos Remote Control Robot is a futuristic robot, that can talk, walk, fire and even dance! The coolest of it is the ability to shoot disks. Just load the robot the colorful disks and use the remote to make all the arrangements.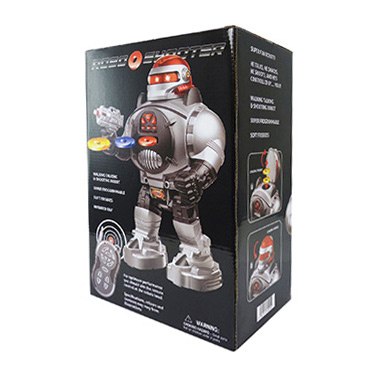 Once it's ready, don't you forget to say the audience to watch out! As those mini Frisbee's will exit robot's torso at maximum speed.
The Best Robots for Kids
Zoomer Dino
This robot is the coolest gift idea for dinosaur lovers of all ages. Zoomer Dino will do everything you'd expect from such a large and frightening animal. It can roar, roam around and spin. But don't you dare to pull its tail or otherwise you're taking the hit. As every other dinosaur, Dino doesn't like ridicule (we suppose!). However, as a toy robot, it can be taught to dance, chomp, roar and chase you around.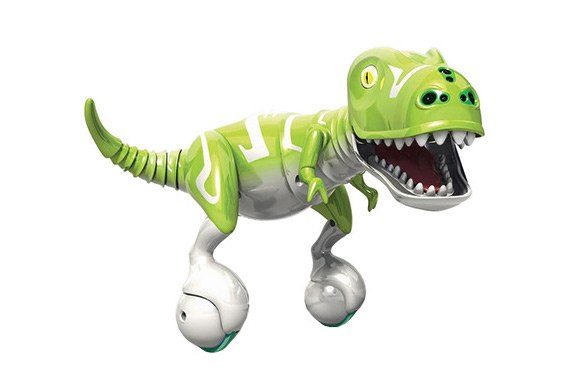 By the way, in our store, we have the robotic lizard, that can compete with Zoomer Dino. Just like anything or anyone may compete with the biggest animals ever lived.
It's called Frilled Lizard Robot, and it's a copy of the real Chlamydosaurus kingie. The robot features an infrared sensor which adds much fun to the game! Therefore it's developed two behavior modes: escape and follow me. The lizard is fast and dexterous, just like the real animal.
SmartGurlz with Maria Doll - App Controlled STEM Toy
Robots for children don't necessarily have to be metal boxes with legs. SmartGurlz is a living… well, electronically living proof of that. This one is strong and beautiful which makes it the best toy for those who are for breaking down gender stereotypes in kids' toys and STEM in general. Girls have no reasons to not to consider STEM careers. So SmartGurlz may become the first step for them to immerse themselves in the world of science.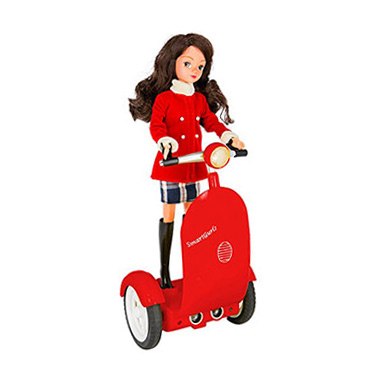 Playing with the toy, kids will be learning the basics of computer programming or coding. Just install SmartGurlz app on your gadget to start learning and playing. This doll is all about fun, kids can interact with it in many ways. Namely, send her on missions, like on dances, obstacle courses, fashion shows and more. It requires less than 24 hours getting the minimum of basic programming skills.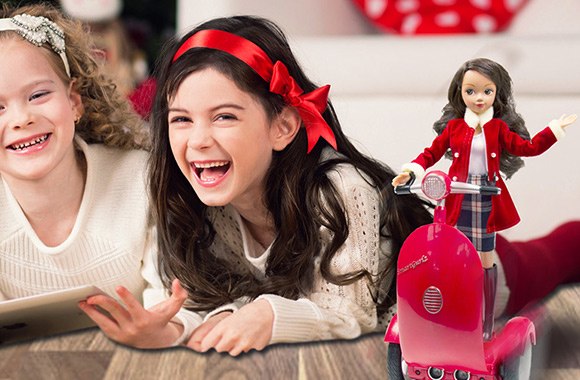 This learning robotic doll is the best choice for kids of both gender, though. Broaden your mind and help your kid to do the same.
Infantino Sensory Discovery Robot
Today six-month-old babies are up to join the world of high technologies with this cool Infantino toy.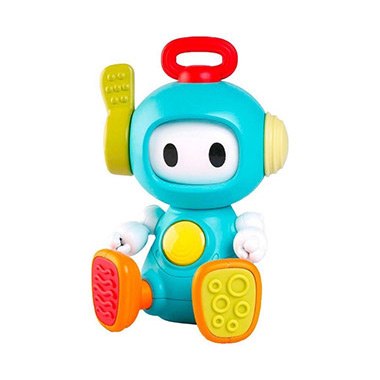 It is safe and fun to play with. Sensory Discovery Robot is covered with different textures to touch, feel and chew. Kids can learn about sound and light by twisting his head and turning him upside down.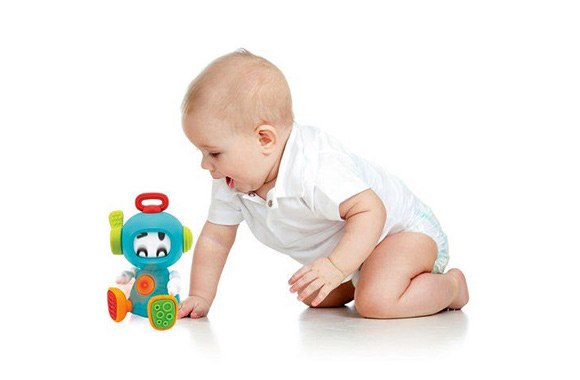 Infantino toys are popular among little children and their parents, as they fit the kids' needs perfectly. Like this robot, whose small size makes it easy for a baby to hold and manipulate with a toy. And given the target audience, it has so much cuteness. Kids love everything about it!
In conclusion…
There are so many different robots for kids! From the simplest ones to those with ability to self-learning and teaching your kids. It's the best time for fulfilling your kids' robotics dreams!
Toys4brain team.
All rights reserved. This material from toys4brain.com web site may not be published, rewritten or redistributed in whole or part without authorship indicated and backlinks provided.