Metal Mechanical 3D Puzzle Time4Machine Mysterious Timer
No results found for your request.
Time for Machine Mysterious Timer is a mechanical 3D puzzle to build the metal timer that has no direct competitors anywhere in the world.
Video
How to Use
Mysterious Timer represents a new stage in modeling. A model kit includes all necessary parts of the chronograph itself, plus a set of miniature tools that you will need to assemble it. The detailed user manual will guide you through assembling of this timer that has no direct competitors anywhere in the world.
As far as it's a real-working chronograph, feel free to use it for its intended purpose. It is an open-clock mechanism that can be wound up with special gear. The rhythmic ticking of the Mysterious Timer will give you a chance to relax and contemplate about your present. One windup cycle will keep the timer going for one hour, and it's just enough time to peel away the shell of stress.
Mysterious Timer is a working mechanical model that can be used as a timer and not just a decorative piece.
Special Features
60-minute timer that makes a sound when the time is up.
Windup mechanism.
Who May Like It
The 3D model is perfect for everyone who is fond of modeling. Who is into creating and collecting unusual things.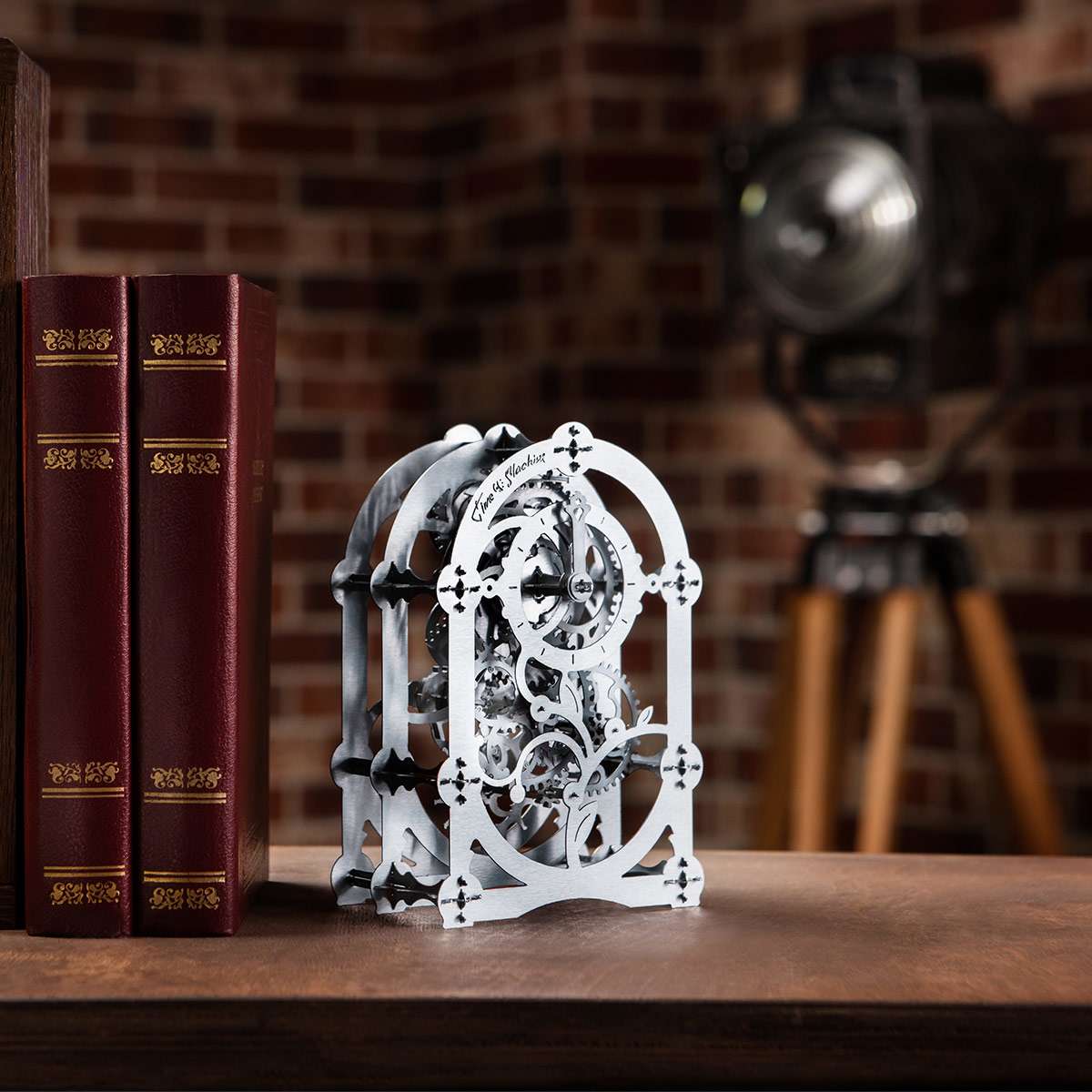 Manufacturer
3D puzzles models by Time4Machine is the intermingling of the industrial age and the latest trends in the modelling.
The range includes metal construction DIY kits. You don't need glue or any hand tool to put them together. These mechanical 3D models will take you to the times before all the smartphones and other gadgets even got there! It's your chance to build an exact copy of the complex mechanical model.
3D models are made of high-quality materials. Besides, each contains moving parts which add so much realism and enjoyment to the game!
Specifications
| | |
| --- | --- |
| Package size, mm | 278 × 128 × 26 |
| Model size, mm | 107 × 80 × 161 |
| Number of parts | 135 pcs |
| Material | polished stainless steel |
| Age | 14+ |
Package Contents
Mechanical 3D Puzzle Time 4 Machine Mysterious Timer – 135 pcs.

Kit with model pieces – 1 pc.
Set of additional pieces – 1 pc.
Polishing cloth – 1 pc.
Pair of pliers – 1 pc.
Manual – 1 pc.