Artec Push-Button Programmable Robot









Swipe right or left to scroll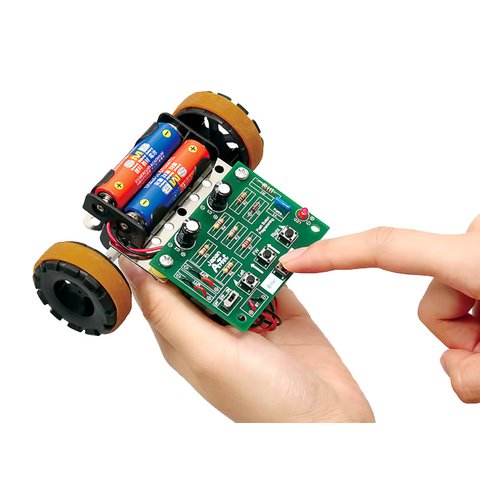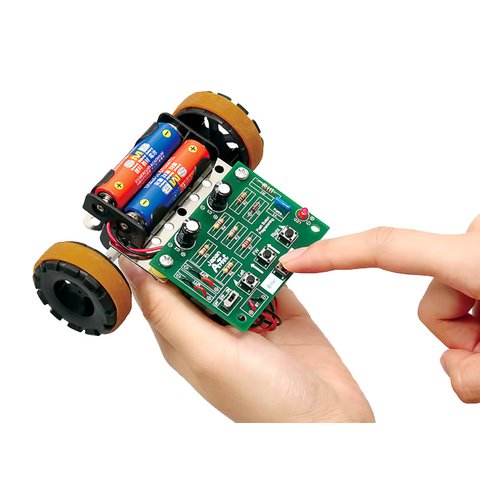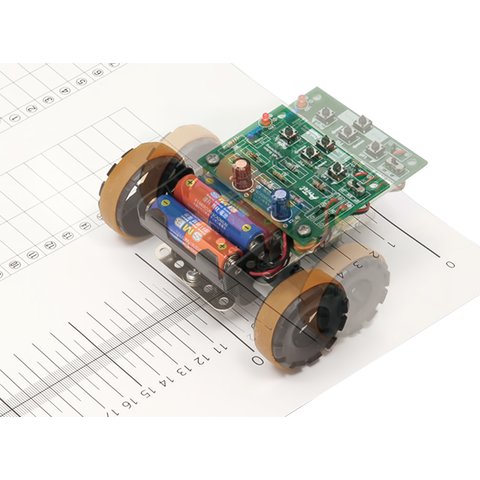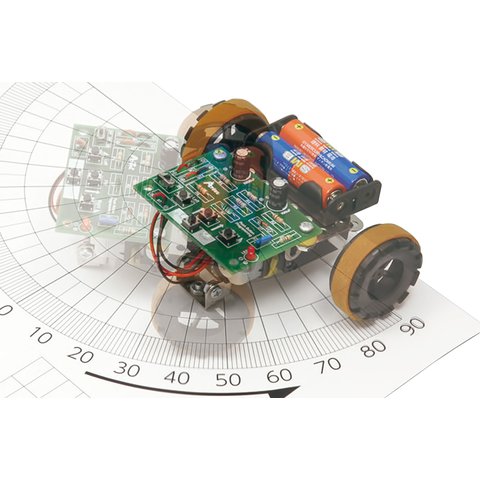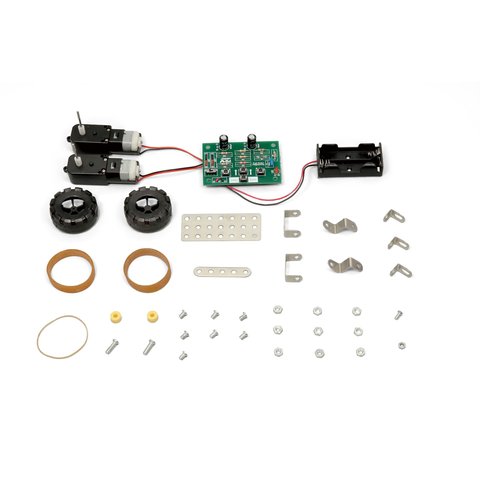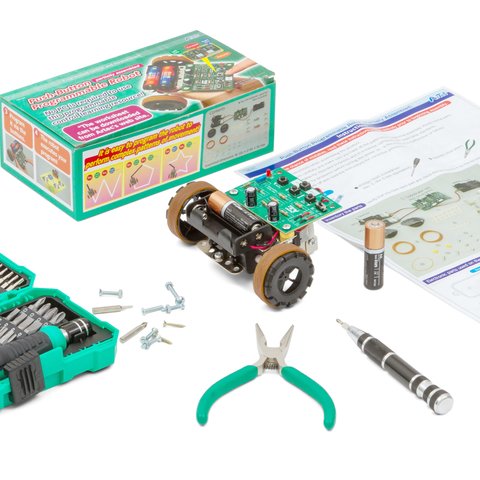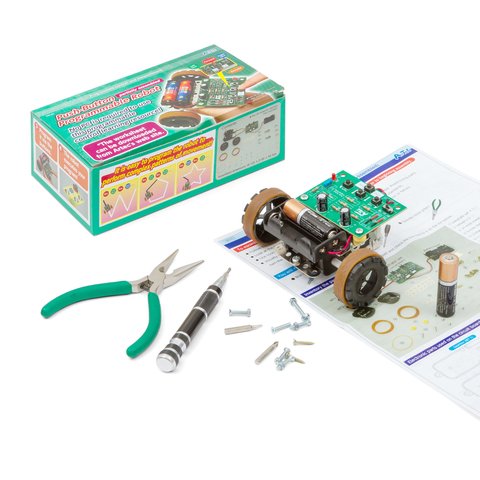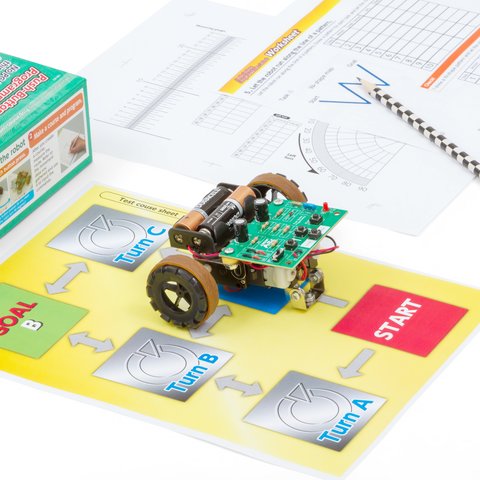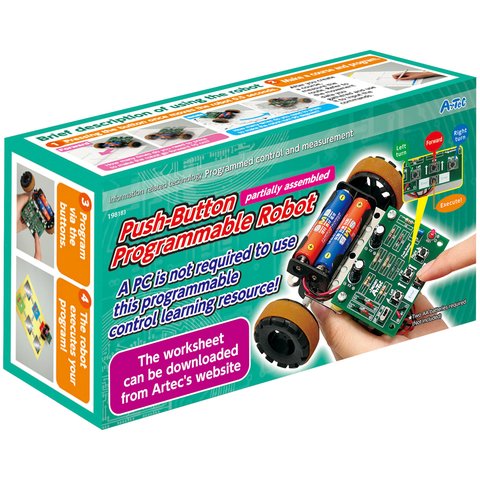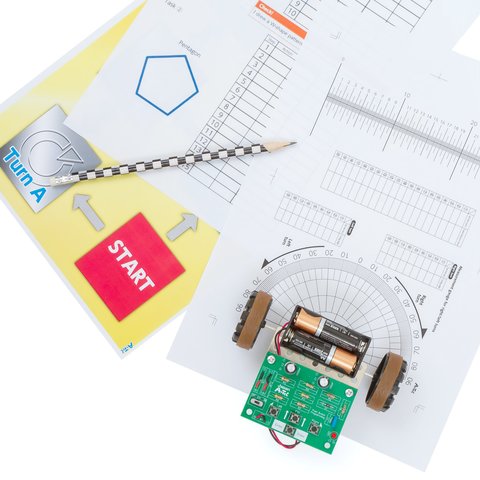 Build a unique programmable robot that requires no computer for programming. You can program the robot simply by pressing buttons. Japanese brand.
Artec Push-Button Programmable Robot is a universal construction kit for individual assembly of a robotic vehicle that can be easily controlled with a few buttons. This compact robot is loaded with fun and amazing tricks. It is simple and easy to use.
The electronic robotic kit will help to learn about electrical current, programming basics, and circuit design. It also contributes to the development of algorithmic thinking and imagination. The set includes an instruction that contains information about the assembly process and a detailed description of each component from the set. And this is the preparation for the main fun: pressing buttons and running the machine.
Usage Guidelines
Apply basic programming skills in practice by following the robot control algorithms and motion planning. Thus, the precisely programmed robot will fulfill all your wishes to the nearest second/centimeter. An exactly programmed robot will fulfill all your wishes with an accuracy of a second and up to a centimeter. Carry out the experiments proposed in the instruction and track the movements of the robot using markup.
There are the buttons Forward, Left and Right on a robotic vehicle's body, which is the major source of fun and knowledge! Everything you need to keep in mind is that one button pressing gives 0.5 seconds of unstoppable robot motion. You decide how long the robot moves, so think of the time and direction and then click the FW/Left/Right buttons in the appropriate order the required number of times... And watch nanotechnologies come to life right in your room.
Okay, let's say you want the machine to go forward for 5 seconds, and then turn right and drive another 3 seconds. In that case, you need to press the Forward button 10 times, and the Right button 6 times. It's simple! Feel free to experiment with time and directions.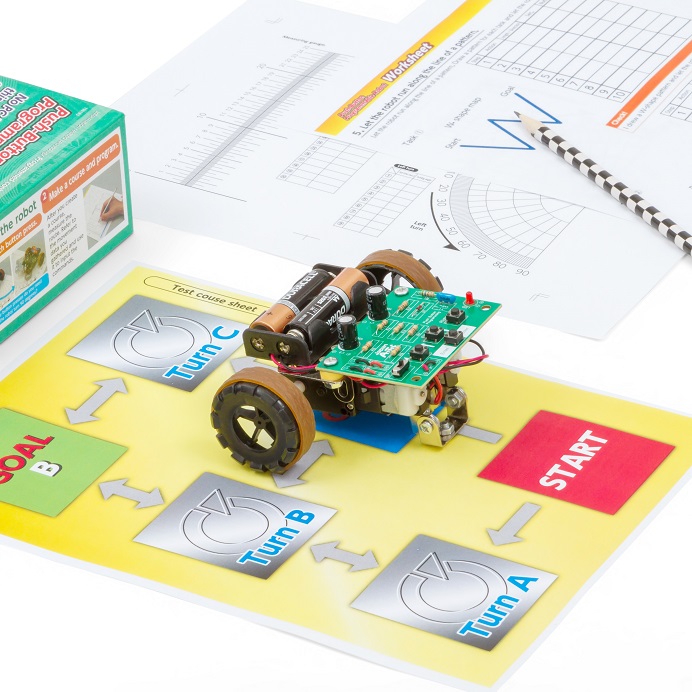 Features
Learn about simple electronic devices and programming.
Great for STEM (science, technology, engineering, and mathematics) related education.
Requires AA batteries 2 pcs. (not included).
Technical specifications
| | |
| --- | --- |
| Battery | AA (2 pcs.) |
| Material | plastic |
| Package size | 60 × 180 × 100 mm |
| Model size | 125 × 90 × 55 mm |
| Age | 8+ years |
Video
You'll find even more video reviews in the Video tab. Go and check it out!
Additional Information
Download Artec Blocks Push-Button Programmable Robot Worksheet
Download Artec Blocks Push-Button Programmable Robot Test Course Sheet
Download Robot Checksheet for measuring Artec Blocks Push-Button Programmable Robot Movements
Package contents
Assembled electronic components — 1 pc.

Mainboard — 1 pc.
Wheel — 2 pcs.
21-hole metal fitting — 1 pc.
5-hole metal fitting — 1 pc.
U-shaped bracket — 2 pcs.
Crank metal fitting — 2 pcs.
L-shaped metal fitting — 3 pcs.
Double-stick tape — 1 pc.
Rubber band for wheel — 2 pcs.
Spacer (orange) — 2 pcs.
Screw (diameter 12 mm) — 2 pcs.
Screw (diameter 5 mm) — 7 pcs.
Nut (diameter 4 mm) — 9 pcs.
Screw (diameter 6 mm) — 1 pc.
Nut (diameter 3 mm) — 1 pc.
Spacer green — 2 pcs.

User guide — 1 pc.
Required Accessories
To assemble and use this model you will need the following (not included in the package) :
Battery AA — 2 pcs.
Phillips screwdriver — 1 pc.
Needle nose pliers — 1 pc.
Don't miss out on the best robot toys for kids! Explore our TOP 10 here.