Solar Rechargeable Space Fleet 7 in 1 CIC 21-641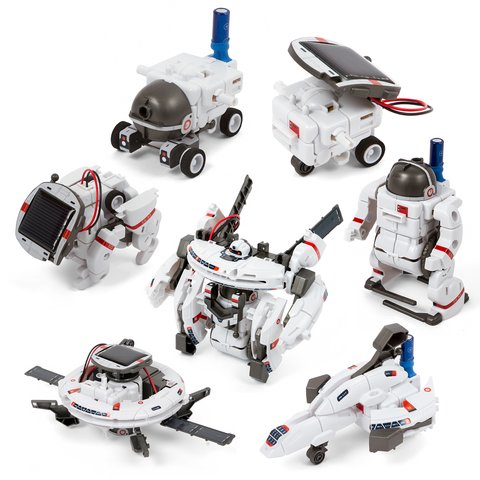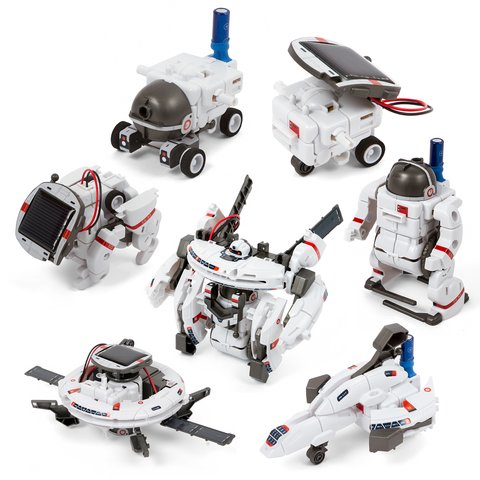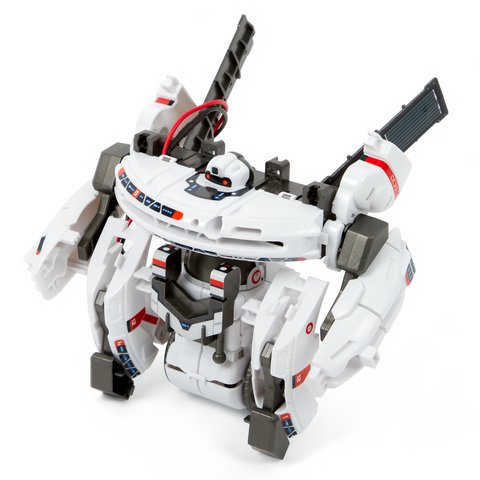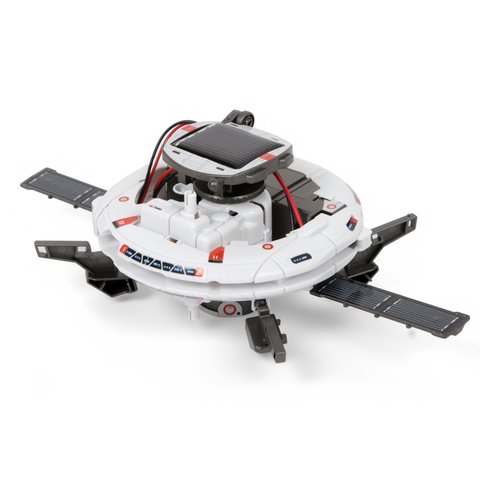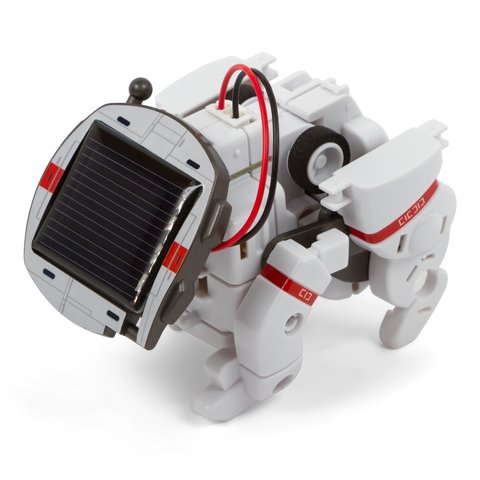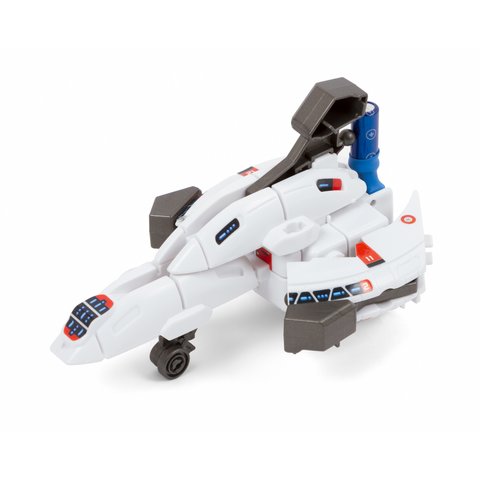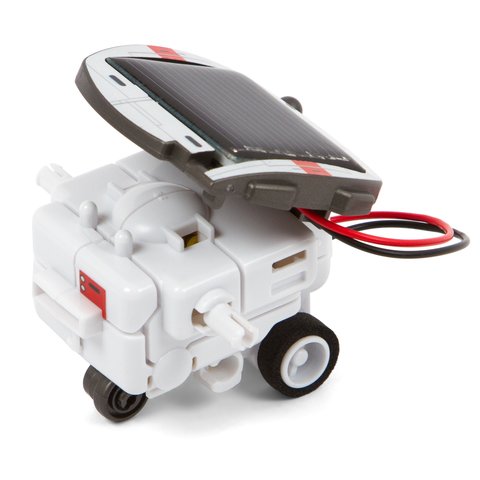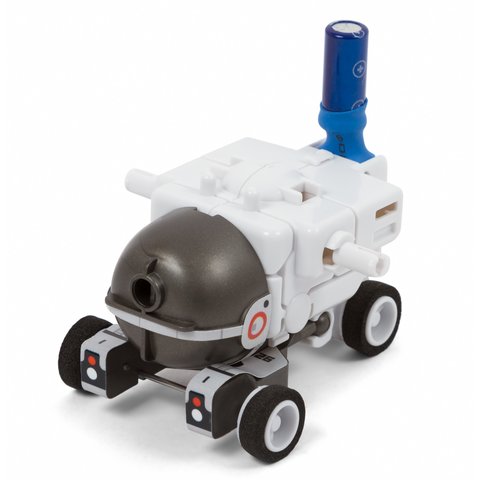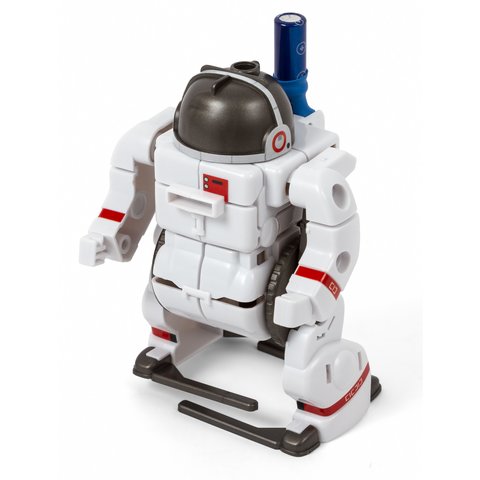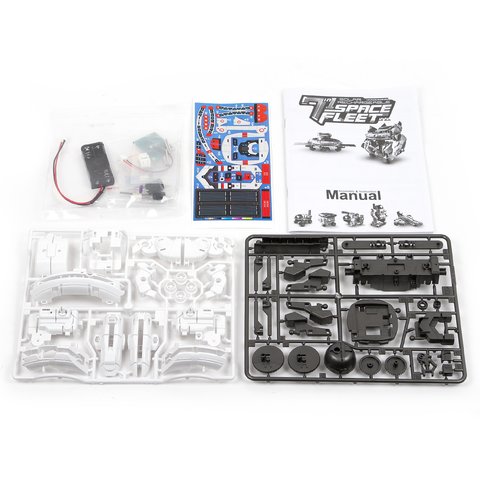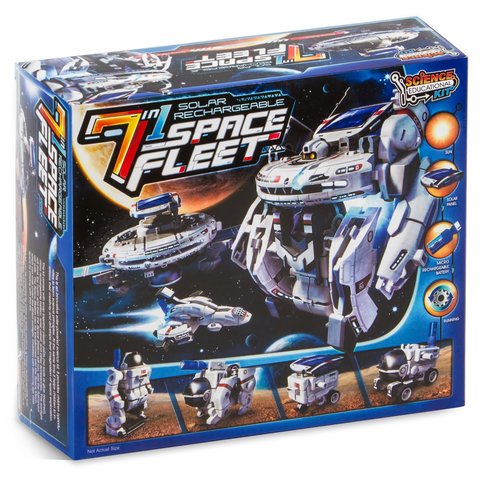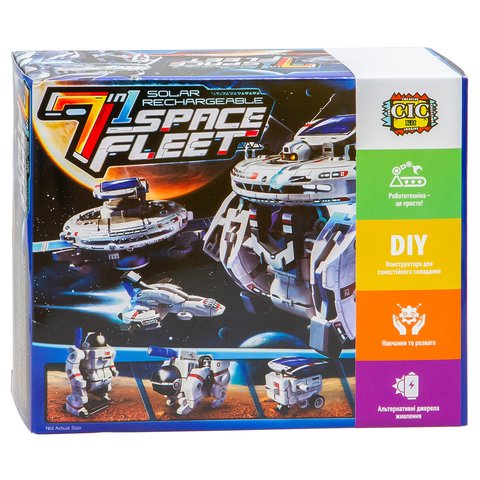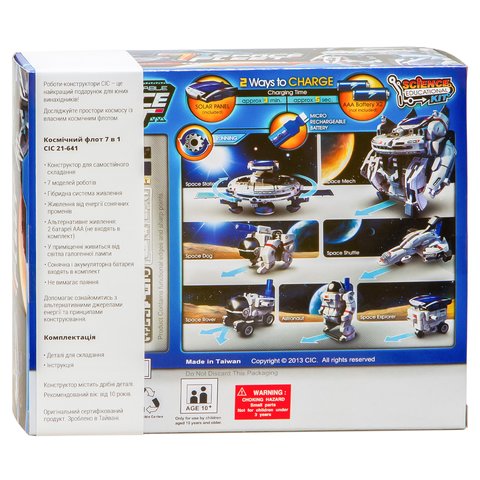 Innovative solar powered science kit that can transform into 7 different lunar modules and be recharged by direct sunlight or small battery. Made in Taiwan.
CIC 7-in-1 solar rechargeable space fleet is a DIY kit that offers to build seven different robots, which can move under direct sunlight or powered by micro batteries. The kit helps kids learning robotics, engineering and green energy.
Video
How To Use
You'll need needle-nose pliers, diagonal pliers, and a screwdriver to assemble the set. This construction kit features a hybrid power system. The package includes a solar panel and rechargeable micro-battery, that can be charged in two ways: by using the solar panel or alkaline batteries.
It doesn't matter if you're a beginner or an experienced robot builder. You're able to build each the seven models, which are space station, robot, rover, vehicle, astronaut, shuttle, and space dog. The parts can be simply snapped together with no tools or soldering required.
Max of fun is easy to achieve by choosing any sunny day and making sure the solar panel is in its place. Do not worry if the weather isn't sunny: solar panel may be powered both with sunlight and indoor halogen light.
Exploring space has never been easier. Just take your 7-in-1 solar rechargeable space fleet and imagine your room is the Universe itself!
To learn more about robotics and engineering, transform your robot in any of the 6 other models. Try being as attentive as you can while assembling the robot. It'll help you learn effectively and in a much funnier way!
Note: Solar panel shows the highest efficiency under the bright sunlight. On a cloudy weather its efficiency is much lower. Halogen lamp with capacity of 100 W can be used as an alternative light energy source in premises.
Who May Like It
Everybody who is at least 10 years old. Do you like robotics? Are you fascinated with the Universe? If so, this kit is perfect for you!
Your gender or special skills don't matter. This kit is perfect for both beginners and experienced robot builders.
Manufacturer
CIC is a Taiwanese manufacturer that makes fascinating robots, solar energy kits, as well as motorized and remote controlled models. CIC toys allow learning robotics, alternative sources of energy and have fun while gaining new knowledge!
We have only original and high-quality CIC kits on toys4brain. Get to know how to identify the fake from the original here.
Specifications
| | |
| --- | --- |
| Power | solar panel, rechargeable batteries (included in the kit) or AAA alkaline batteries × 2 pcs. (not included in the kit) |
| Package size, L × W × H | 180 × 70 × 210 mm |
| Weight | 0.3 kg |
| Age (years) | 10+ |
Package contents
CIC 7-in-1 solar rechargeable space fleet 21-641 (disassembled parts)
User guide — 1 pc.
Required accessories
Tools needed for assembling the robot:
Needle-nose pliers
Diagonal pliers
Screwdriver
2 AAA batteries (not included)
Additional Information
Warning: this DIY construction set contains small parts.
The original certified product. Made in Taiwan.
Attention! Beware of low quality counterfeits made in China.

ArTeC Out in Orbit Build Your Own Satellite
USD 15.00
USD 9.99
You save USD 5.01

ArTeC Energy Conversion Car Set
USD 18.00
USD 10.99
You save USD 7.01

ArTeC ROBO Link-A
USD 36.00
USD 22.99
You save USD 13.01