Hydraulic Robot Arm CIC 21-632











Swipe right or left to scroll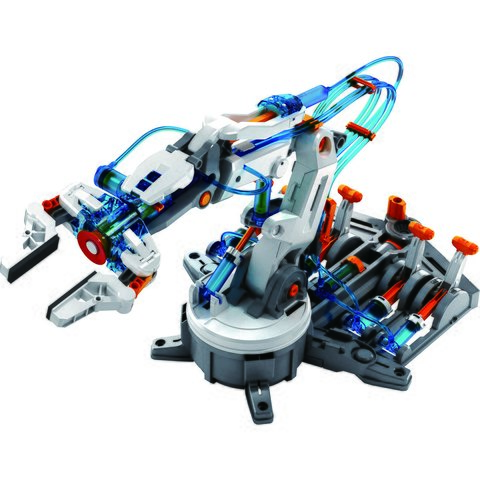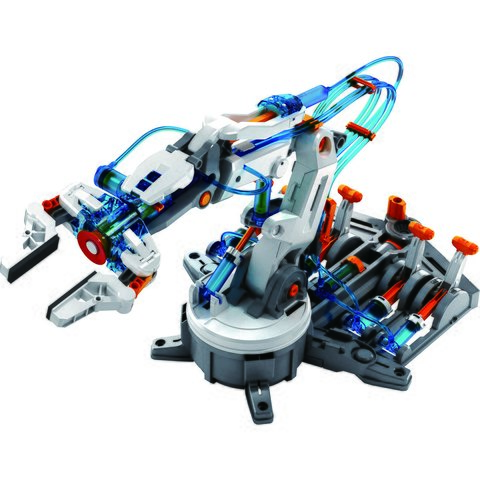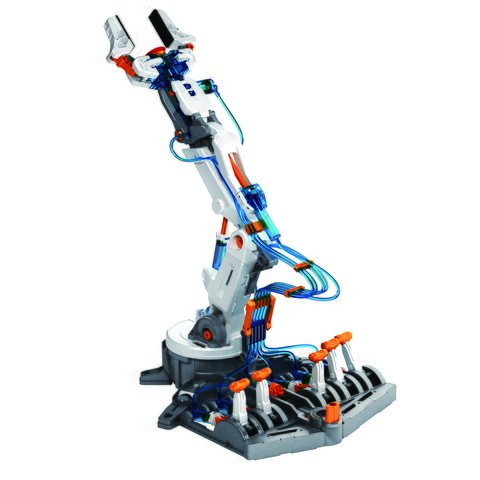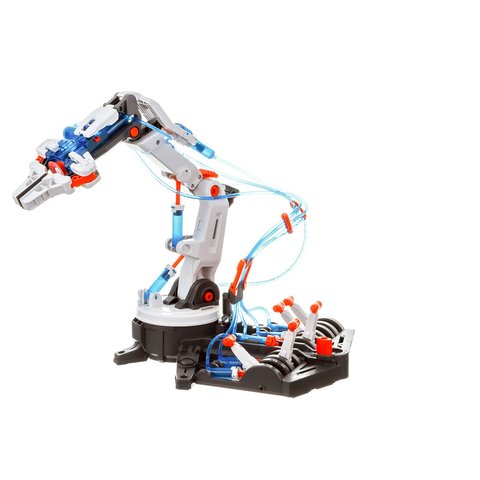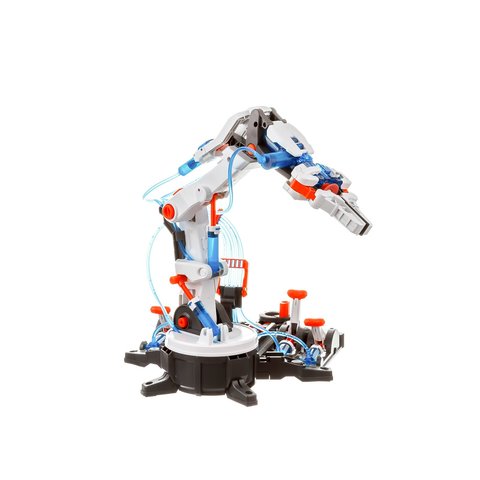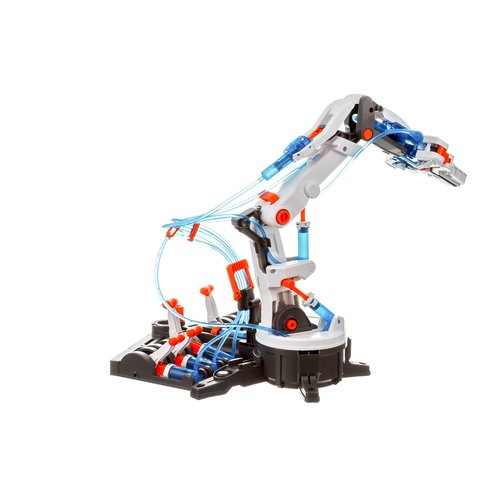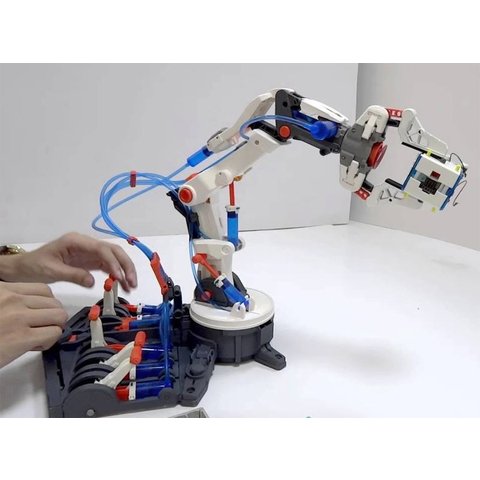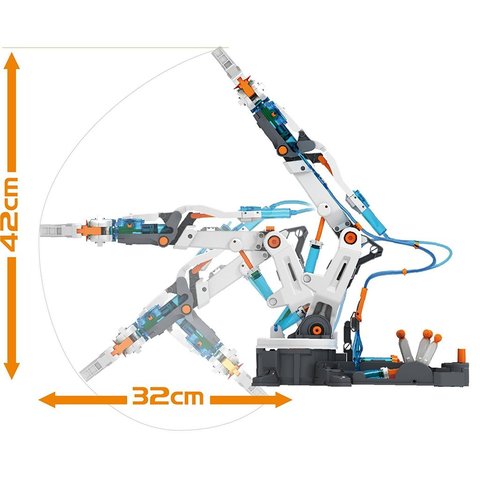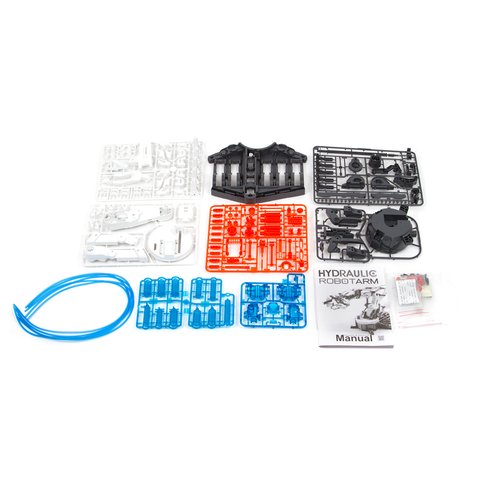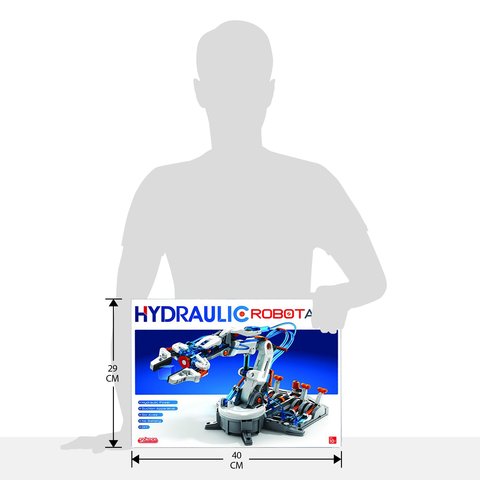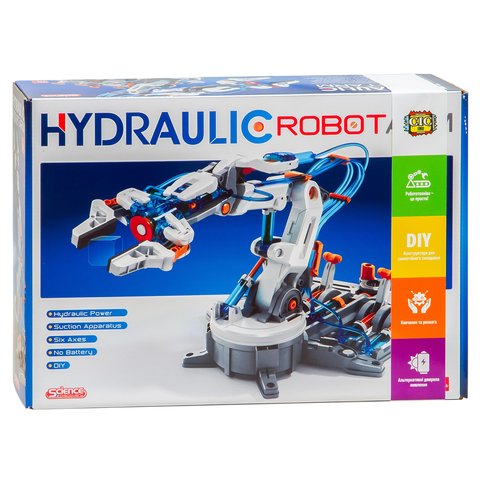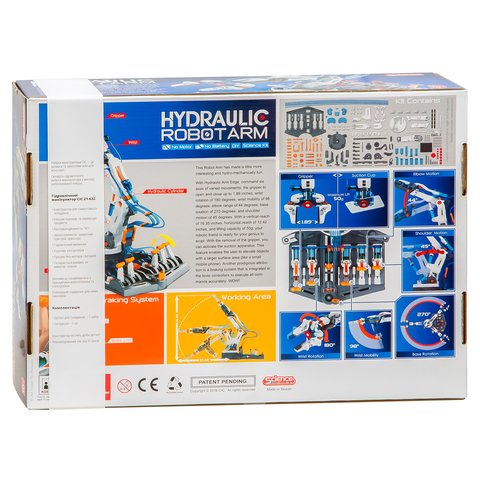 Robotic arm that functions without motors or batteries. Powered by water it can lift up to 50 grams of weight. Made in Taiwan.
CIC 21-632 Hydraulic Robot Arm is a self-assembly kit that offers to build a hydraulic robotic arm. This robot is able to lift up to 50 grams of weight and move objects around. This robot is powered by eco-friendly hydraulic technology, so the kit helps kids to learn the principles of robotics as well as the green energy.
Video
Demonstration
You'll find even more video reviews in the Video tab. Go and check it out!
How To Use
You need a screwdriver and needle-nose pliers/diagonal pliers to assemble the robot. The hydraulic robot arm is easy-to-assemble and does not require soldering. You will find the explanation for every assembly phase in the user manual.
Feel free to experiment if you want to have the max of fun! Use your robot arm to lift whatever's to hand, or try to make more targeted use of it. For example, use it to build a castle by lifting and placing building bricks or other pieces. Besides, you can remove the gripper and activate the suction apparatus. That will help you to elevate a mobile phone or other objects with a larger surface area.
The robot has a hydraulic mechanism, and 6 controllers with a braking system for highly accurate commands execution.
To study, explore different ways to control the robot: opening/closure, tilting motion and base rotation! You also need be as attentive as you can while assembling the robot. By doing that, you will learn more about robotics, engineering, and hydraulic energy.
Who May Like It
Everybody who is at least 10 years old. Do you like robotics? Are you intrested in learning green energy? If so, this kit is perfect for you!
Your gender or special skills don't matter. This kit is perfect for both beginners and experienced robot builders.
Manufacturer
CIC is a Taiwanese manufacturer that makes fascinating robots, solar energy kits, as well as motorized and remote controlled models. CIC toys allow learning robotics, alternative sources of energy and have fun while gaining new knowledge!
We have only original and high-quality CIC kits on toys4brain. Get to know how to identify the fake from the original here.
Specifications
| | |
| --- | --- |
| Lifting capacity | 50 g |
| Horizontal reach | 12.42 cm |
| Vertical reach | 41.5 cm |
| Base rotation range | 270° |
| Base motion range | 180° |
| Extensive elbow range | 44° |
| Wrist rotation range | 180° |
| Wrist motion range | 98° |
| Shoulder motion range | 45° |
| Gripper opening/closure range | 4.8 cm |
| Size, L × W × H | 322 × 242 × 415 mm |
| Package size, L × W × H | 400 × 290 × 105 mm |
| Weight | 1,35 kg |
| Age (years) | 10 |
Package contents
CIC 21-632 hydraulic robot arm (disassembled parts) – 229 pcs.
User guide — 1 pc.
Required accessories
Tools needed for assembling the robot:
Needle-nose pliers
Diagonal pliers
Screwdriver
Additional Information
Warning: this DIY construction set contains small parts.
The original certified product. Made in Taiwan.
Attention! Beware of low quality counterfeits made in China.