Mechanical 3D Puzzle UGEARS Locomotive with Tender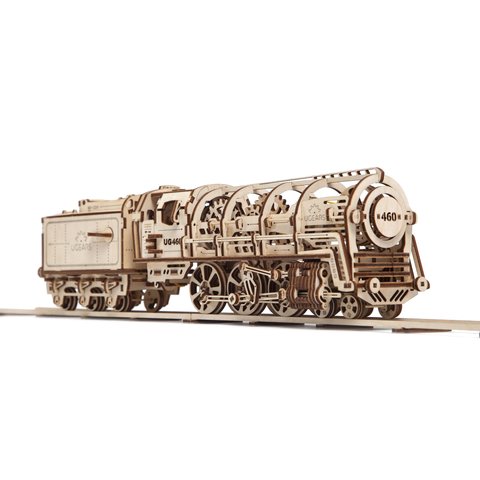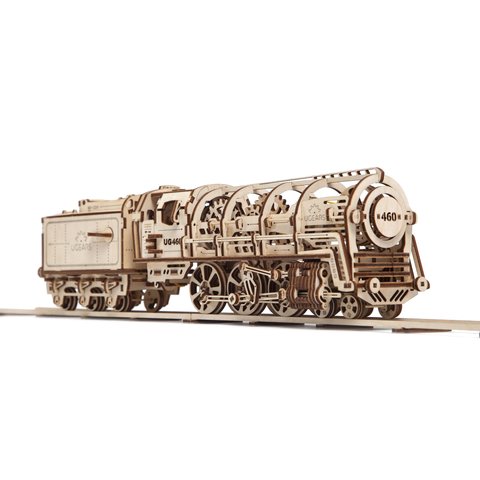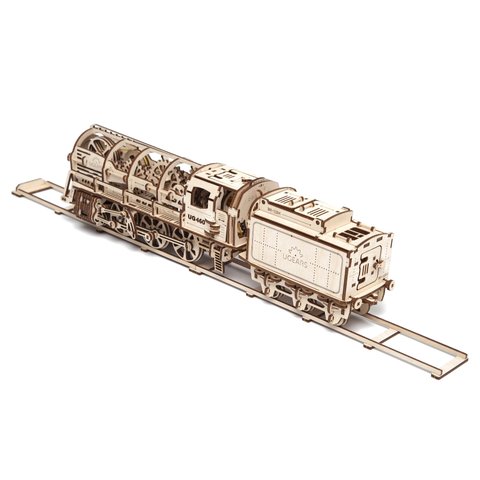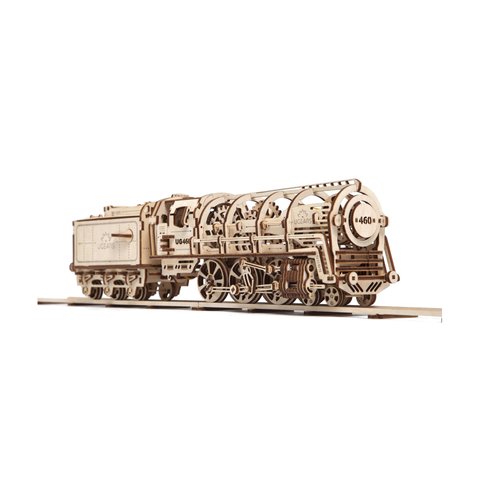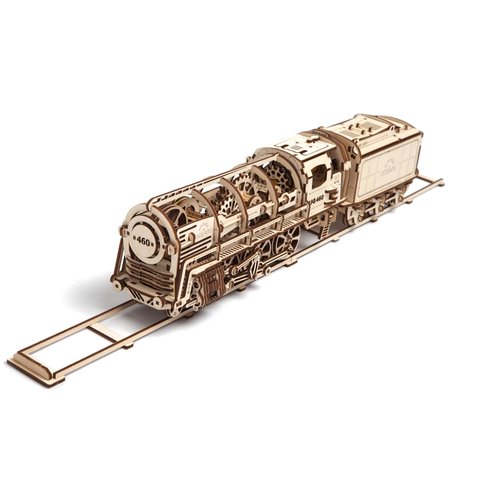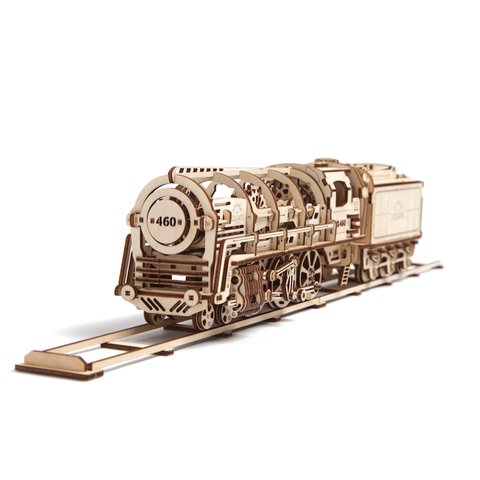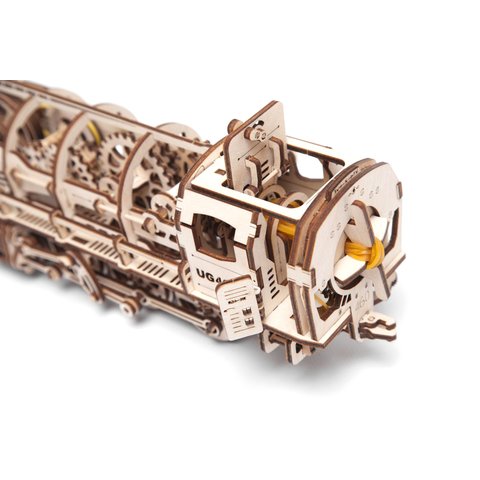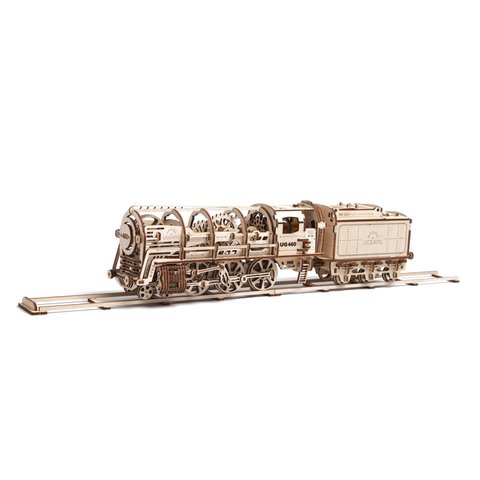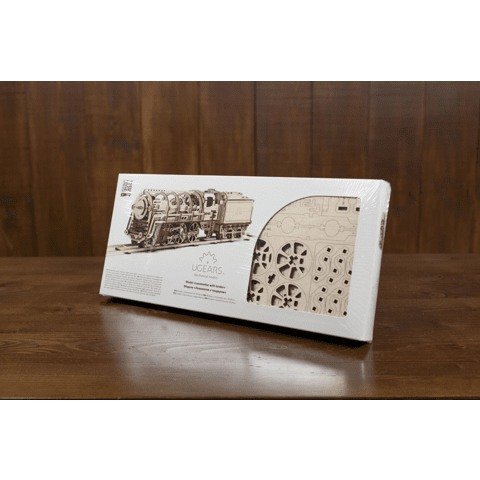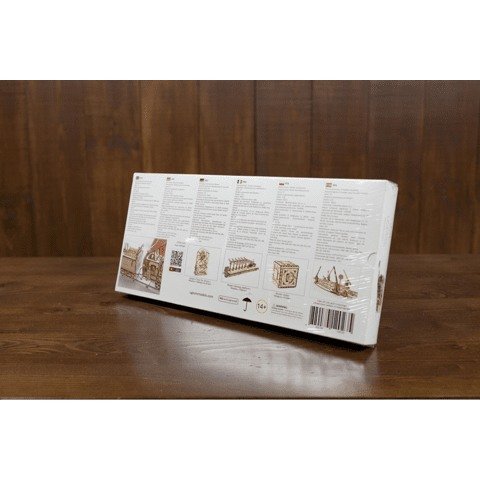 Construction set to assemble a steam locomotive with tender. The largest and most complex of all UGEARS 3D models up to date. This 19th century replica features a fully detailed engineer's cab with retractable step ladder, art-deco boiler trim, and a coal tender with open-up doors. Made in Ukraine.
Mechanical 3D Puzzle UGEARS Steam Locomotive with Tender is a mechanical 3D puzzle, a self-assembly model with no glue or any special tools (the parts are ready-made and can be simply removed from the board). To be assembled according to the manual.
Features
Is driven by rubber bands and a gear array instead of a heated steam engine.
With the help of a system of rods, linkages and cranks can drive up to 5 meters.
70 cm of rails included into the kit.
Patented plywood joint design.
No glue or any hand tools needed for model assembly - the parts are ready-made and can be simply removed from the board and assembled together.
The complete kit includes 4 m of Rails and the Railway Platform, which are sold separately.
The set includes the manual and is packed in film.
Technical specifications
Material
plywood
Manuals 
EN
Model size, l×w×h
315

×

100

×

125 mm
Tender size
160

×

90

×

115 mm
Package size
37

×

17

×

4 cm
Number of components
443
Compatibility
Video
User Manual
Download User Manual for Mechanical 3D Puzzle UGEARS Steam Locomotive with Tender.
Model Assembly Tips
If you hold the board with its front side directed to you, it is better to remove the parts by pulling them. In this case, if a burr is pulled together with a part, it will make a pit in the board, not in the part. The best solution is to incise the hangers with a knife.
If you have difficulties in inserting a toothpick in the assembled gearwheel, rub the toothpick with a candle.
You may also lubricate all the projecting axes of the gearwheels before installing them on the frame. In this case the friction during rotation will be minimal.
Note: do not lubricate the parts of pendulum connection with a candle – two projecting sticks in the tractor or timer. In this case the pendulum will not swing but skid.
Try to remove big burrs on the gearwheels, if any. The motion of some models is very delicate, and they may hinder it.
If any gearwheel creaks or squeaks, lubricate it with a regular candle: paraffin or wax. If the plywood edge is too resinous and some teeth tend to seize, which happens quite rarely, lubricate the gearwheel in the same manner.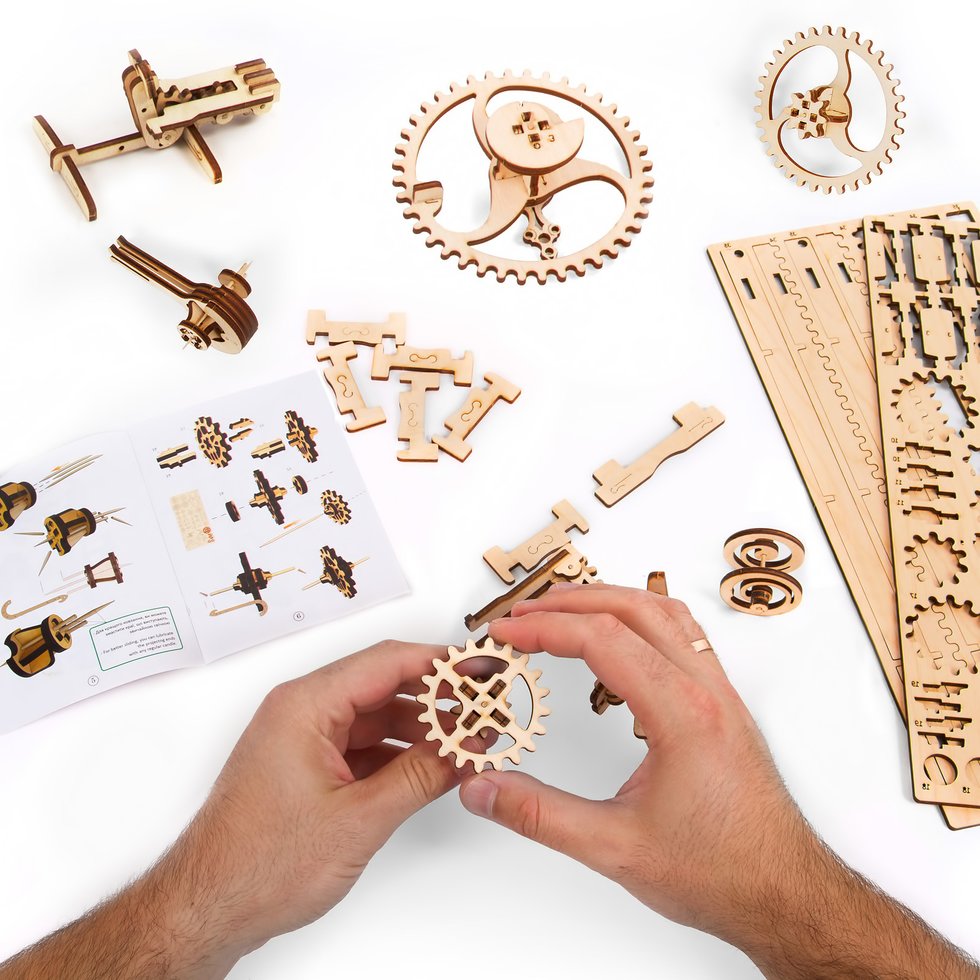 Additional Information
Warning: the construction set contains tiny details.
Does not contain hazardous substance. Keep dry.