TOP 10 Learning Toys of 2018
Last year was quite a busy one for toys4brain! We were growing, sharing our finds, exploring and experimenting all the year round. We hope your 2018 was no less bright!
Now it's time to recap, so we'll do it as usual and tell you about a dozen of the best learning toys that leapfrogged ahead in 2018. And the winners fall into three categories: programming, engineering and electronics. So, we have rolled out the red carpet, got popcorn ready and are holding our breath – let's begin!
Page Content
Electronic Favorites
Avengers Hero Inventor Kit: Every Inch the Hero
Avengers Hero Inventor Kit is a 2 in 1 kit. When playing with this toy, your kid will dive into the amazing world of electronics where there is no soldering or complex concepts. Besides, it's a chance to see how good you're at programming and coding while playing the game. The aim is to build a gauntlet which will give you the superpower to learn and have fun!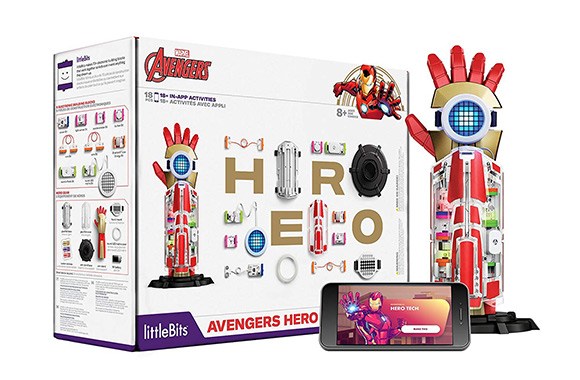 In brief, it's a toy that will turn you into seven Avengers from a well-liked movie franchise. To start, download the Hero Inventor app, which is available for Android and IOS. Use it to go through the seven "stages", each of which is dedicated to a certain superhero and his/her superpower.
Kids are supposed to complete from 2 to 4 tasks at each level. Some of these require taking off the gauntlet to modify it. Others may be accomplished simply by programming the toy in the app.
Klutz Maker Lab Circuit Games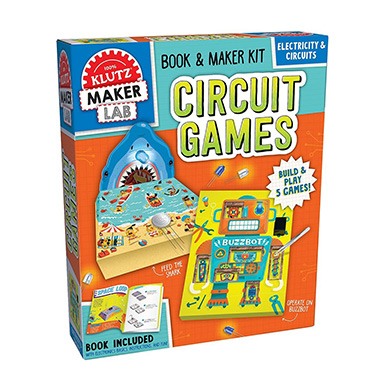 Do you enjoy playing board games? Are you interested in electricity and electronics? If so, you should definitely look at Klutz Maker Lab Circuit Games! After all, it's more than just a simple electronic kit. It's five different board games you're supposed to assemble on your own hands.
Easy-to-follow instructions full of colorful images will help you create five thrilling circuit games, which are Feed The Shark, Quiz Show Game, Morse Code Game, Space Loop Game, and Operate On Buzzbot. By building and playing it, you'll learn how electricity flows through circuits. Just attach the battery with LEDs and wires, and watch your creations come to life!
Learn the basics of electricity, create games from scratch and have fun with friends and family!
SmartLab Toys Smart Circuits Games & Gadgets Electronics Lab
Fuel your fun! You'll find instructions for building 50 electronic circuits in the manual, so start by completing each of those circuits. Learn the basic concepts of electronics, like electric currents, resistors, conductors, computer programs, light waves, and other no less important issues. As a result, you'll get 50 real games and other gadgets that may be used as you wish.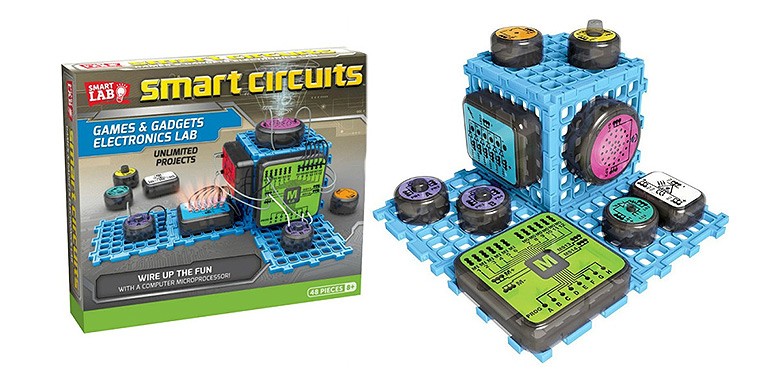 Do this and you'll be ready to cut loose and chart your own course. Ten intellectual modules and one powerful microprocessor module know no limits! That's why the kit is ideal for experiments and observation.
Smart Circuits Games & Gadgets Electronics Lab isn't just a set of electronic circuits, but 3D modeling as well. All this is due to the multi-dimensional board that can be connected in any direction. Electrical engineering in action!
Programming, Coding and Magic
Botley™ The Coding Robot Activity Set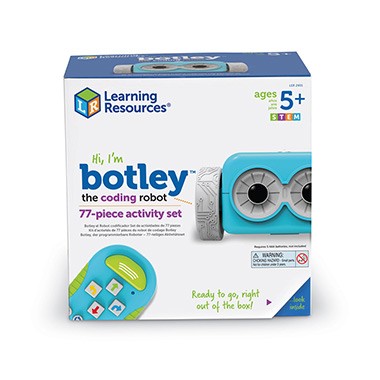 Getting ready to school is a serious matter. While some parents focus on reading and writing, others approach the issue in a more modern manner.
You may think that teaching little kids programming is too much. Still, the Botley robot proves it's not true! It serves as your guide to the world of coding and robotics. There are no gadgets, apps, and screens, just interaction with this robotic little friend!
Kids may give Botley a command to move forward, turn around, detect or avoid objects, and much more! One robot's step is 20 cm long, and you can program it to make up to 80 different movements at a go.
To summarize, we should say the Botley robot combines numberless game options, kids' constant involvement in the learning process, as well as a possibility to modify the toy with additional accessories. Excellent choice!
Kano Harry Potter Coding Kit
It's time for witchcraft, wizardry and some programming! And you don't need to wait for the Hogwarts owl or run into a brick wall. All you need is Kano coding kit based on Harry Potter books.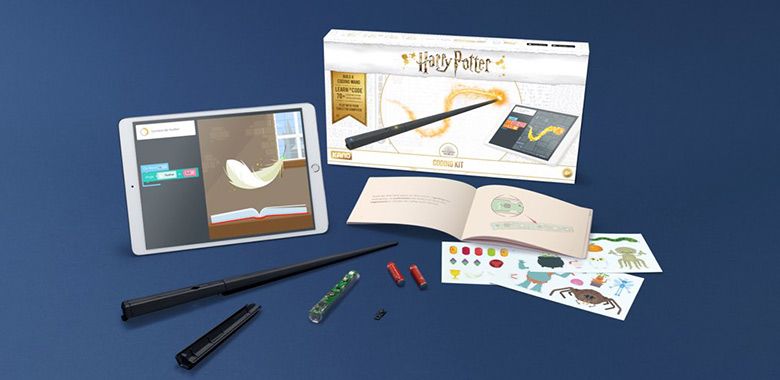 The kit contains three pieces of a magic wand, two AAA batteries, a button, a step-by-step guide, stickers, and a poster showing the main movements of the magic wand.
The magic will be happening on the screen of your laptop or tablet. Besides, remember to download the app and put all the parts of the magic wand together. And then feel free to experiment! There're 70 tasks in total, each of them teaching programming and coding. You'll learn how to make feathers fly, goblets multiply, fire flow, pumpkins grow at an amazing speed, and other incredible things!
Be sure to try creating your unique spell and share it with other wizards in the Kano world!
Neuron Explorer Kit gives you an opportunity to feel like a true programmer/researcher!  You'll be creating and experimenting while learning more and more about programming.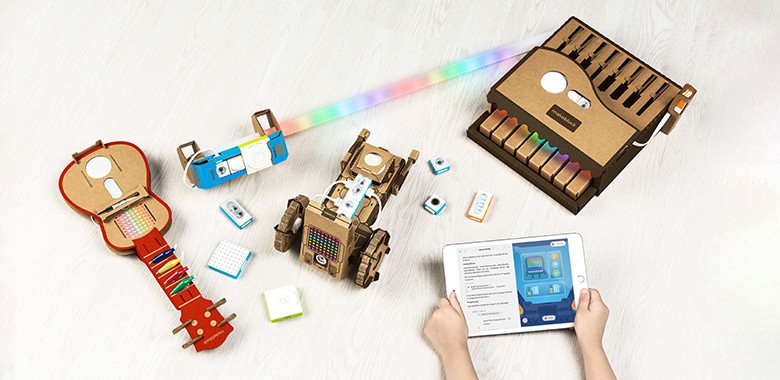 The kit contains more than 10 programmable electronic blocks to create cool gadgets just in no time. All you need is to choose building blocks and connect them in a snap with magnetic Pogo Pins. And then program your new gadget using an mBlock icon on the desktop or Neuron app on mobile devices.
Neuron Explorer Kit is a learning toy, which educates your kids and is self-learning as well. All programs you'll find in the manual are some of possible options. However, the kit allows creating custom programs! Besides, you can complete the kit with LEGO parts if you have some. Compatibility is tested!
Creative Coder Kit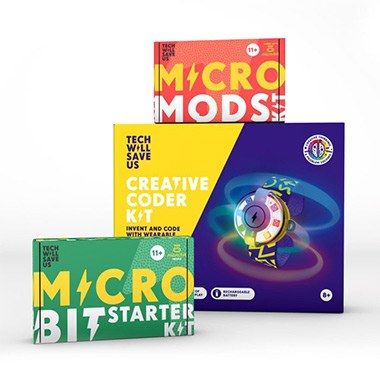 One more toy to help your kids learn programming and coding. This one resembles a well-known spinner, but Creative Coder Kit is way more entertaining and useful!
It's a small wearable device, and it takes only 15 minutes and no tools to assemble it. Then just program it as you wish in a special app. The device will blink, light up and wiggle, responding to your movements. Sure, you can reprogram it in any other way whenever you feel like it!
Use the toy to create light sabers or to make teeth brushing fun. Attach it to a scooter or a bicycle to light your way up!
Creative Coder Kit boosts kids' ingenuity while introducing programming and coding!
Learning Toys for Engineers and Architects
ARCKIT
If you feel that all those wooden construction kits aren't enough, this toy is just for you. ARCKIT is an Irish kit that makes all kids and adults feel like true architects!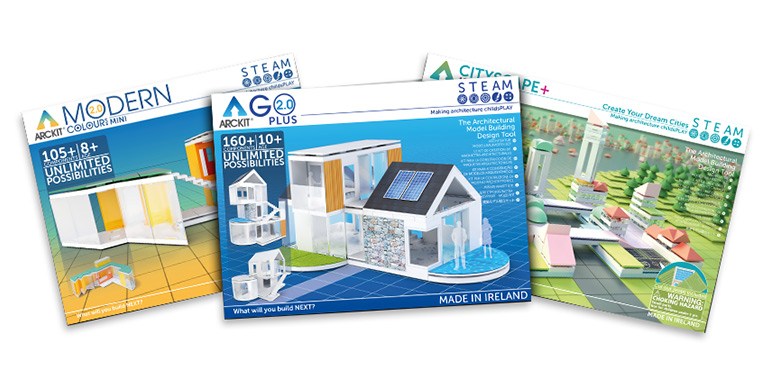 You'll find kits for both beginners and professionals. Besides, you can assemble a custom model by choosing components for desired buildings on your own. It makes ARCKIT an ideal construction kit for kids to have fun and for adults to get inspired and turn their architectural ideas into action.
The kit's pieces are easily interconnected, so you can change your creation on and on, until you reach perfection!
Magformers Super Brain Set
The construction kit for those who love three-dimensional models and want them to fly & ride. Magformers Super Brain Set contains 209 pieces attached to each other with built-in magnets.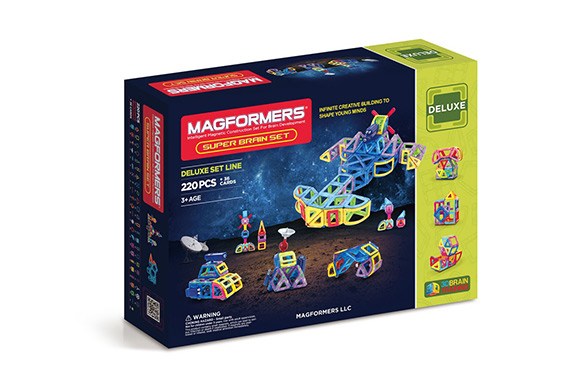 The kit develops kids' imagination and curiosity as they can create a countless number of models! Besides, it educates kids about some mathematical concepts like radius, diameter, circle, and geometric shapes.
Math isn't the only thing Magformers Super Brain Set teaches. The youngest kids may study colors and shapes, develop their fine motor skills and explore the magnetic force. Invite your friends or family to the game to learn how to work in a team and feel free to share your ideas openly!
Magformers Super Brain Set is 2D and 3D modeling of all shapes and sizes, so any kid can handle it!
Erector by Meccano Kits
25 in 1 kit contains real tools and a working robust 6-volt motor. It'll make you feel like you're living a real engineering life! You'll create 25 different vehicle variations using the tips in the user manual.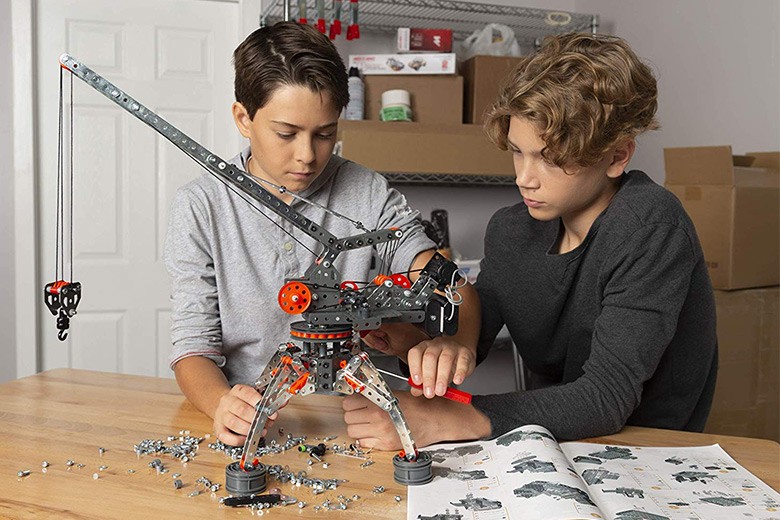 You're free to express your creativity as well! Just forget all ready-made solutions, open your mind and create brand-new models! Metal pieces will make adults feel nostalgic, and kids will get a chance to turn into real engineers.
The Final Speech
These days a lot more modern parents begin to understand the value of STEM. It makes them prefer learning toys to traditional entertaining ones. Still, as we all already know, you can have it both ways!
Luckily, there're toys perfect for both fun and learning. You've just read about the best of them. Still, there are many more cool toys for brain, see for yourself!
Toys4brain team.
All rights reserved. This material from toys4brain.com web site may not be published, rewritten or redistributed in whole or part without authorship indicated and backlinks provided.